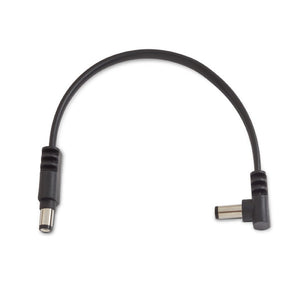 Rockboard Flat Power Cable 15cm , 5 7/8" Angled/Straight
The RockBoard Flat Power Cables are high-quality power supply cables for effects pedals and were developed, based on our Flat Patch Cables. Their super compact plugs are smaller than those of most other power cables on the market. This way they save valuable pedal board space as well as potrusions over the pedalboard's edge. Other than most commonly available power cables, Rockboard Flat Power Cables do not use two parallel cable lines, but use the same design as instrument cables with a central wire surrounded by a shielding layer. This effectively prevents electrical interference into the audio signal.
Data
high quality power cable for effects pedals
extra compact angled/straight plugs
5.5 x 2.1 mm barrel plugs
twisted copper shield for minimizing electrical interference
plug dimensions (L x W x H) angled 20 x 11 x 10.5 mm / 13/16 x 7/16 x 5/16, straight 20.5 x 11 x 8.5 mm / 13/16 x 7/16 x 5/16
length 15 cm / 5 29/32"