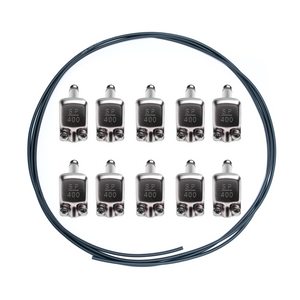 DIY SP400 Squareplug Soldered Cable Kit
Regular price $44.99 Sale
If you have a small to medium sized pedalboard, you've certainly come to love a clean signal path both in noise and application.  You've probably also come realize how much space you need to save to get the most out of your board.

This bundle of high quality Mogami W2314 cable, SP400 low-profile pancake plugs. This bundle will help you get all your pedals plugged in and onto your pedalboard quickly and cleanly, saving space where other plugs can't.

Forget solder-less kits! They are not the answer. Put your soldering skills to work and build cables that will last for years to come.

Need more? Check out the individual pages of SP400 heads and Mogami W2314 where you'll also find bulk discounts.

Need some straight plugs for certain cables? Add a few SPS4 plugs to your order!


Instructions on how to build this cable: