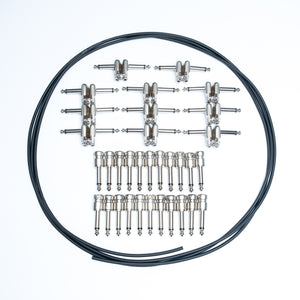 DIY Soldered Cable Kit for 10 Channel Pedalboard Switchers
Regular price $200.00 Sale
If you have a loop switcher on your pedalboard, you've certainly come to love a cleaner signal path, less tap-dancing and maybe even sophisticated MIDI control. You've probably also come realize how much cable you need to get them integrated into your setup.
This bundle of high quality Mogami W2314 cable, SP400 low-profile pancake plugs and SPS4 stubby 1/4" straight plugs will help you get all your pedals plugged into your new switcher quickly and cleanly.
40 feet of cable and 22 plugs of each type are enough to fill all ten loops plus your input and output.
Forget solderless kits. Put your soldering skills to work and build cables that will last for years to come.
Need less?
Check out my store for 5 and 8 channel versions of this bundle.
Shopping for ten channel switchers? Check out these options!
RJM Mastermind PBC
GigRig G2
One Control Crocodile Tail
Road Rage 10 Loop
Loop Switchers 10 Channel
Loop Master 10 Channel
GigRig QMX10