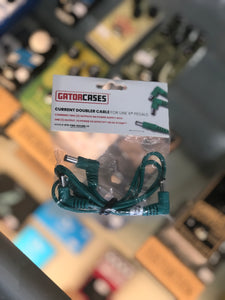 Gator Cases Current Doubler Cable for Line 6 Pedals
In the shop we have Current Doubler cables for Line 6 pedals from Gator Cases!
Note - while these are designed specifically to work with Line 6 pedals, please check your pedal's manual and the provided info below to make sure this cable works for your specific pedal!
This cable also has 3 right angle ends, despite the packaging and all online media showing 1 straight angle. This shouldn't affect compatibility differently, but is good to know when planning your cable routing on your board.
Here's more from Gator:
Current Doubler Adapter Cable for Line 6 HX Effects & HX Stomp Pedals
Combines Two (2) Outputs on Power Supply into One (1) Output & Doubles the Current Rating
2 x 2.1mm Male Right Angle Barrel Plugs & 1 x 2.5mm Right Angle Male Barrel Plug.
Green Color Helps Stand Out from Other Cables
Polarity: Center Negative (Standard)
Product Dimensions: 24"/610mm (L), Net Weight: 0.1 lbs./0.05 kg