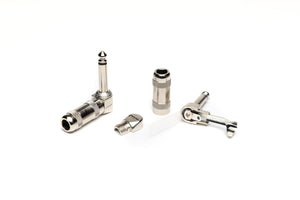 G&H 1/4" Right Angle TS Plug (RF2PNNN)
The first 1/2" profile right angle plug. Like the BF2P series the RF2P delivers a clean tone in a roadworthy package that spares you the embarrassment, time, and cost of having to make repairs to your audio system at an inopportune time due to plug failure. That's lasting value.
It starts with an OFC copper core for maximum conductivity. Another advantage of the copper is that if the plug is bent the copper will stretch and not break. You can straighten it, play on and replace it later. The hot solder tab is press fit and riveted for double reliability. The ground is staked to the plug sleeve so that it can never loosen and cause crackling. Finally the terminals, insulator and housing are interlocked to prevent turning and loosening.
OFC copper core for highest conductivity

1/2" profile file for highest packing density

Tin plated hot and ground for ease of soldering

Interlocked connections to prevent loosening

Solid brass housing protects the plug

Separately crimped ground won't loosen

No small screws to loose

Plug opens up for easy soldering

.300" exit hole
Works well with: